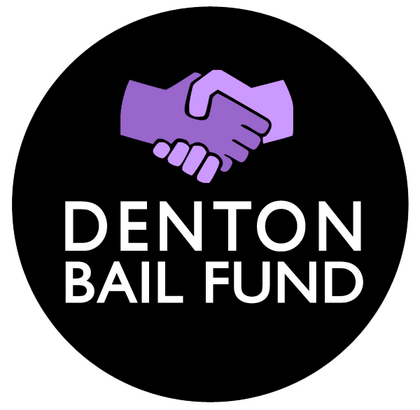 DENTON BAIL FUND
The Denton Bail Fund is an all-volunteer collective of folks who believe that no one should be incarcerated simply because they cannot afford bail. We operate on a case-by-case basis and are completely dependent on community support for funding.Haga clic aqui para leer la version en español.
BAIL SUPPORT
We are unable to assist with immigration bonds and people detained outside of Denton County.For additional questions or concerns, text or call us at 940-268-2478, or email us at dentonbailfund@gmail.com.
donate
100% of your donations go towards the release and support of people in pretrial detention.
You can also donate as you shop by signing up for any of these services.
about denton bail fund
The Denton Bail Fund started out as a GoFundMe campaign to bail out Denton protesters who were in danger of being arrested under the unconstitutional city curfew set in response to the June protests in honor of George Floyd and the Black Lives Matter movement. Originally, unused funds were to be donated to the Dallas Bail Fund. However, as the curfew was repealed and local protesters who were arrested had the support they needed, volunteers with the Denton Bail Fund decided to address the broader need for bail assistance and form a permanent bail fund.For updates, follow us on Facebook or Twitter at @dentonbailfund, or sign up for our newsletter.
---
© Denton Bail Fund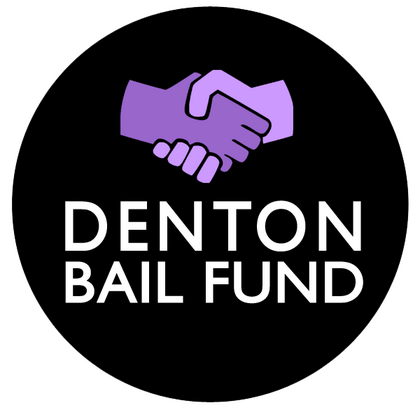 DENTON BAIL FUND
El Denton Bail Fund es un colectivo de gente voluntarias que creen que nadie debería ser encarcelado simplemente porque no pueden pagar la fianza. Operamos caso por caso con capacidad y fondos limitados. Complete este formulario a continuación si está buscando asistencia de fianza para alguien en el Condado de Denton.Click here to read the English version.
OBTENGA APOYO PARA SALIR CON FIANZA
Nosotros no podemos ayudar con los bonos de inmigración. Solo apoyamos los quien están detenidos en la cárcel de la ciudad o el condado de Denton.Para preguntas o inquietudes adicionales, llámenos o envíenos un mensaje de texto al 940-268-2478, o envíenos un correo electrónico a dentonbailfund@gmail.com.
DONE AHORA
El 100% de sus donaciones se destina a la liberación y apoyo de personas en prisión preventiva.
SOBRE NOSOTROS
El Denton Bail Fund comenzó como una campaña GoFundMe para rescatar a los manifestantes de Denton que estaban en peligro de ser arrestados bajo el toque de queda inconstitucional de la ciudad establecido en respuesta a las protestas de junio en honor de George Floyd y el movimiento Black Lives Matter. Originalmente, los fondos no utilizados debían ser donados al Fondo de Fianzas de Dallas. Sin embargo, a medida que se derogó el toque de queda y los manifestantes locales que fueron arrestados tenían el apoyo que necesitaban, los voluntarios del Denton Bail Fund decidieron abordar la necesidad más amplia de asistencia de fianza y formar un fondo de fianza permanente.Para actualizaciones, síganos en Facebook o Twitter en @dentonbailfund.
---
© Denton Bail Fund
---